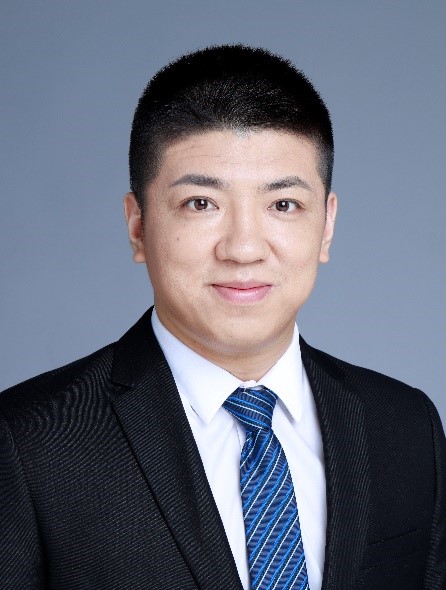 姓名:赵鹏
职称:教授
联系邮箱:edwardwtfl@126.com
联系电话:020-61648592
个人经历:
2019-至今 南方医科大学药学院,教授
2016-2017科技部国际合作司,欧亚处挂职
2015-2019南方医科大学药学院,副教授,硕士生导师
2006-2015 湖南大学,化学生物传感与计量学国家重点实验室,本硕博连读
主持科研课题:
1.广东省高层次人才引进"珠江人才计划"青年拔尖人才
2.国家自然科学基金青年项目
3.广东省自然科学基金面上项目
4.广州市科技计划"珠江科技新星"专题
5.化学生物传感与计量学国家重点实验室开放基金
6.南方医科大学高层次人才引进科研启动项目
7.南方医科大学青年科技人员培育项目
研究方向:
1.纳米材料功能化界面用于新型药物分析方法的研究;
2.高灵敏与高准确性的生物分析新方法的构建
3.肿瘤多模态成像及光热、光动力治疗的研究
4.新型纳米药物及其相关机制研究
代表性论文:
1. Hongmei Li, Ruirui Xie, Cong Huang, Jiaqi He, Peipei Yang, Jia Tao*, Bingquan Lin*,Peng Zhao*, Black phosphorus quantum dots nanocomposites based activatable bimodal imaging and determination of intracellular glutathione,Sensors and Actuators B: Chemical,2020, 321, 128518.
2. Ruirui Xie, Yanyan Liu, Peipei Yang, Lan Huang, Xun Zou, Jiamin Liu, Qingfan Ren, Jia Tao*,Peng Zhao*, "French fries"-like luminescent metal organic frameworks for the fluorescence determination of cytochrome c released by apoptotic cells and screening of anticancer drug activity,Microchimica Acta,2020,187, 221.
3. Wei Zhao, Yun Xiang, Jiabin Xu, Xiaofeng He*,Peng Zhao*, The reversible surface redox of polymer dots for the assay of total antioxidant capacity in food samples,Microchemical Journal,2020,156, 104805.
4. Wanqi Zheng, Yanyan Liu, Peipei Yang, Yuyu Chen, Jia Tao*, Jianqiang Hu*,Peng Zhao*, Carbon nanohorns enhanced electrochemical properties of Cu-based metal organic framework for ultrasensitive serum glucose sensing,Journal of Electroanalytical Chemistry,2020,862, 114018.
5. Yanyan Liu, Ruirui Xie, Peipei Yang, Ling Lu, Lin Shen, Jia Tao*, Zhi Liu*,Peng Zhao*, An excellent electrochemical sensor based on highly porous gold film modified gold electrode for detecting quercetin in food and medicine,Journal of The Electrochemical Society,2020,167, 047514.
6. Yanyan Liu, Hongmei Li, Shipeng Gong, Yongning Chen, Ruirui Xie, Qianqing Wu, Jia Tao*, Fanliang Meng*,Peng Zhao*, A novel non-enzymatic electrochemical biosensor based on the nanohybrid of bimetallic PdCu nanoparticles/carbon black for highly sensitive detection of H2O2released from living cells,Sensors and Actuators B: Chemical,2019, 290, 249-257.
7. Yanyan Liu, Hongmei Li, Ling Lu, Bin Sun, Lihui Huang, Hongyu Chen, Wenhua Qiu, Jia Tao*,Peng Zhao*, A ratiometric electrochemical sensor with integrated probe for the assay of α-glucosidase activity and screening of its inhibitors,Journal of The Electrochemical Society,2019,166, B133-B140.
8. Chang Peng, Suya Zhou, Xuemei Zhang, Tianqin Zeng, Wei Zhang, Hongmei Li, Xiaoying Liu*,Peng Zhao*, One pot synthesis of nitrogen-doped hollow carbon spheres with improved electrocatalytic properties for sensitive H2O2sensing in human serum,Sensors and Actuators B: Chemical,2018, 270, 530-537.
9. Chang Peng, Zefan Li, Xuemei Zhang, Suya Zhou, Wei Zhang, Xiaoying Liu*,Peng Zhao*, Simultaneous determination of hydroquinone, catechol and resorcinol with high selectivity based on hollow nitrogen-dopedmesoporous carbon spheres decorated graphene,Journal of The Electrochemical Society,2018,165, B212-B219.
10. Hongmei Li, Xuefeng Wang, Zheng Cai, Ling Lu, Jia Tao, Bin Sun, Yuanyuan Yang, Quan Xu, Zhiqiang Yu*,Peng Zhao*, Ratiometric fluorescent sensing of copper ion based on chromaticity change strategy,Analytical and Bioanalytical Chemistry,2017, 409, 6655-6662.
11. Yuanyuan Yang, Xuefeng Wang, Guochao Liao, Xiqiang Liu, Qiling Chen, Hongmei Li, Ling Lu,Peng Zhao*, Zhiqiang Yu*, iRGD-decorated red shift emissive carbon nanodots for tumor targeting fluorescence imaging,Journal of Colloid and Interface Science,2018, 509, 515–521.
12.Peng Zhao, Quan Xu, Jia Tao, Zongwen Jin, Yue Pan, Changmin Yu*, Zhiqiang Yu*, Near infrared quantum dots in biomedical applications: current status and future perspective,WIREs Nanomed Nanobiotechnol,2018, 10, e1483.
13. Mengze Yu, Kunli Zhao, Xiaohua Zhu, Shiyun Tang, Zhou Nie, Yan Huang*,Peng Zhao*, Shouzhuo Yao, Development of near-infrared ratiometric fluorescent probe based on cationic conjugated polymer and CdTe/CdS QDs for label-free determination of glucose in human body fluids,Biosensors and Bioelectronics,2017,95, 41-47.
14. Jia Tao,Peng Zhao*, Qiang Zeng, The determination of cystatin C in serum based on label-free and near-infrared light emitted PbS@BSA QDs,Journal of Materials Chemistry B,2016,4, 4258-4262.
15. Quan Xu*, Tairong Kuang, Yao Liu, Lulu Cai, Xiangfeng Peng, Theruvakkattil Sreenivasan Sreeprasad,Peng Zhao*, Zhiqiang Yu, Neng Li, Heteroatom-doped carbon dots: synthesis, characterization, properties, photoluminescence mechanism and biological applications,Journal of Materials Chemistry B,2016,4, 7204-7219.
16.Peng Zhao, Kaiyu He, Yitao Han, Zhen Zhang, Mengze Yu, Honghui Wang, Yan Huang, Zhou Nie*, Shouzhuo Yao, Near-Infrared Dual-Emission Quantum Dots–Gold Nanoclusters Nanohybrid via Co-Template Synthesis for Ratiometric Fluorescent Detection and Bioimaging of Ascorbic Acid In Vitro and In Vivo,Analytical Chemistry,2015,87, 9998-10005. (Most Read Articles)
17.Peng Zhao, Lifen Zhou, Zhou Nie*, Xiahong Xu, Wang Li, Yan Huang, Kaiyu He, Shouzhuo Yao, Versatile Electrochemiluminescent Biosensor for Protein–Nucleic Acid Interaction Based on the Unique Quenching Effect of Deoxyguanosine-5'-phosphate on Electrochemiluminescence of CdTe/ZnS Quantum Dots,Analytical Chemistry,2013,85, 6279–6286.
18.Peng Zhao, Guangming Cao, Lifen Zhou, Qian Liu, Manli Guo, Yan Huang, Qingyun Cai, Shouzhuo Yao*, Nitrate enhanced electrochemiluminescence determination of tris (2,3-dibromopropyl) isocyanurate with a gold nanoparticles-modified gold electrode,Analyst,2011,136, 1952-1956.